INCREASE YOUR PUNCHING SPEED & EXPLOSIVE POWER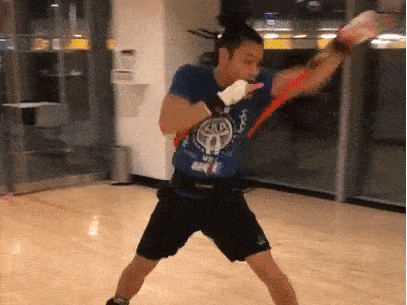 Whether you are a boxer, martial artist or just a sports addict, resistance training is a great way to increase strength using your own body weight, without the need to use extra dumbbell weights.
INCREASE PUNCHING POWER
Using resistance bands can increase your punching power. By resisting your muscles as you contract them, they force those muscles to work harder and grow strong. Because they lend themselves easily to the task, this resistance belt is perfectly designed to be used in conjunction with punching motions. 
TAKE IT WITH YOU ANYWHERE
This resistance belt is the most convenient training aid to keep in your gym bag or when you travel. It gives you a full-body workout at the gym or in a hotel room or in your own home by adding weight to your arms legs.
These resistance bands have the advantage that they can closely follow your arm's motion with each punch. The grip lets you hold your hand in a proper fist, and you can move in and out of the punch easily. 
INTENSE SHADOW BOXING
These Shadow Boxing Resistance Bands provide an intense workout. You do not need to be a fighter to benefit from the training. To get the most of your shadow boxing workout, try to include footwork and dodging. Boxers are constantly moving around. You should be too. 
FULL BODY WORKOUT
Since it is a full-body workout, most of your muscles are being worked twice as hard. Your main focus is on your arms but you may be surprised at how many muscles are being used.
It works your abdominal muscles, shoulders, chest, back, calves, quadriceps etc. Punching power starts in the legs. Assuming you do a variety of punches, footwork, and dodging you are working your toes to your neck.
IMPROVE STRENGTH, ENDURANCE & REFLEXES
Since shadow boxing does not involve a punching bag or person, this belt will help you work your abs and back muscles more. It can help you improve your strength, endurance and reflexes. While it is not a replacement for weight-lifting or a cardio exercise like running, it fits perfectly with them.


SPECIFICATIONS:
The adjustable belt is great for waistlines 28.7" to 41.7"
Material: High-Quality Natural Latex
Tension Range: 150lbs